We're actually happier. Instead of stressing about what's ahead or behind us, we stop to enjoy what's happening now. Food brings life to us, teaches us to enjoy life. Food has great power, too. Through food, we can reach out to people and demonstrate their importance in our life. When we make food beautiful, when we give a person something that is a true pleasure to eat, we perform an act of love.
Red Table is the new restaurant from critically acclaimed artisanal Indian restaurant owner Naif Al Otaibi and Executive Chef Ebou. Red Table holds up to its name with its bright, casual atmosphere; "unapologetically" authentic Indian food. We at Red Table believe that food is a conversation of life and want to recreate that dialogue through our ingredient-focused menu. By evoking hints of their own nostalgia, Chef Ebou have created traditional dishes the way they're meant to be cooked: with a variety of herbs and spices made in-house while staying true to India. It's unpretentious—think Butter Chicken, Dum Biriyani, and traditional South delicacies. Come with your spice-appreciating friends, and join us for a sensational feast!
Dear Guests,
Like you, we at Red Table Restaurant have been closely following the news about COVID-19 and have been learning more about how it may impact our employees, restaurants, and guests, and making any changes necessary.
I want you to know that your health and safety while dining at our restaurants is the most important part of what we do as a restaurant company.
We take pride in offering a clean place to gather with friends and family, and we know this is more important now than ever. As restaurant owners, we have always followed stringent Department of Health regulations and will continue to do so – from handwashing to food safety to ensuring sick employees do not come to work. As an additional precaution, our employees have increased their cleaning and sanitizing efforts and you may notice more frequent cleanings in the dining areas, restrooms, and guest entrances.
We continue to monitor the situation and are taking guidance from the MOH and local municipality authorities to maintain our focus on the health and safety of you and our employees.
In the meantime, our restaurants remain open for business. I invite you to share any feedback or questions with me directly at gm@redtablerestaurant.com.
We welcome your support and look forward to serving you and your family.
Naif Fahad Al Otaibi, CEO, Red Table Group of Restaurants
We believe that a true sign of quality is the absolute satisfaction of our customers. The choices of flavor we serve are reminiscent of a large variety of food originating from South Asian Culture.
We aim to cater to the masses, reminding them of the greatness of our cuisine. This is exactly why we procure the highest quality of raw ingredients to use in our recipes and make sure that each time we cook something up in our kitchens, we delight our customers with the results.
Red Table Restaurant strives to keep our traditions alive, and there is no better way of doing that than serving you great food, created with passion, honesty and pride.
"To experience the Red Table hospitality, walk into our restaurants and be sure to leave with a smile and a taste you'd want to come back to."
All our food is freshly prepared on a daily basis ensuring that you receive only the finest cuisine ,delicious to taste. Our food not only tastes good it looks wonderful as well.
In Dammam, one is spoilt for choice. There are a number of catering companies out there, and all of them are all looking for your business. So it becomes key for any discerning customer to choose the right catering service for making their event a success. So what makes our catering a step above the rest?
Passion….Cooking for us is not our livelihood, it is our passion; it is a labour of love. Successful events stem from creative planning, attention to details, ability to understand event visions and a desire for perfection.
We will work with you, matching the menu to whatever theme it is you had in mind…helping you think out of the box and ensuring fun, fresh, original food.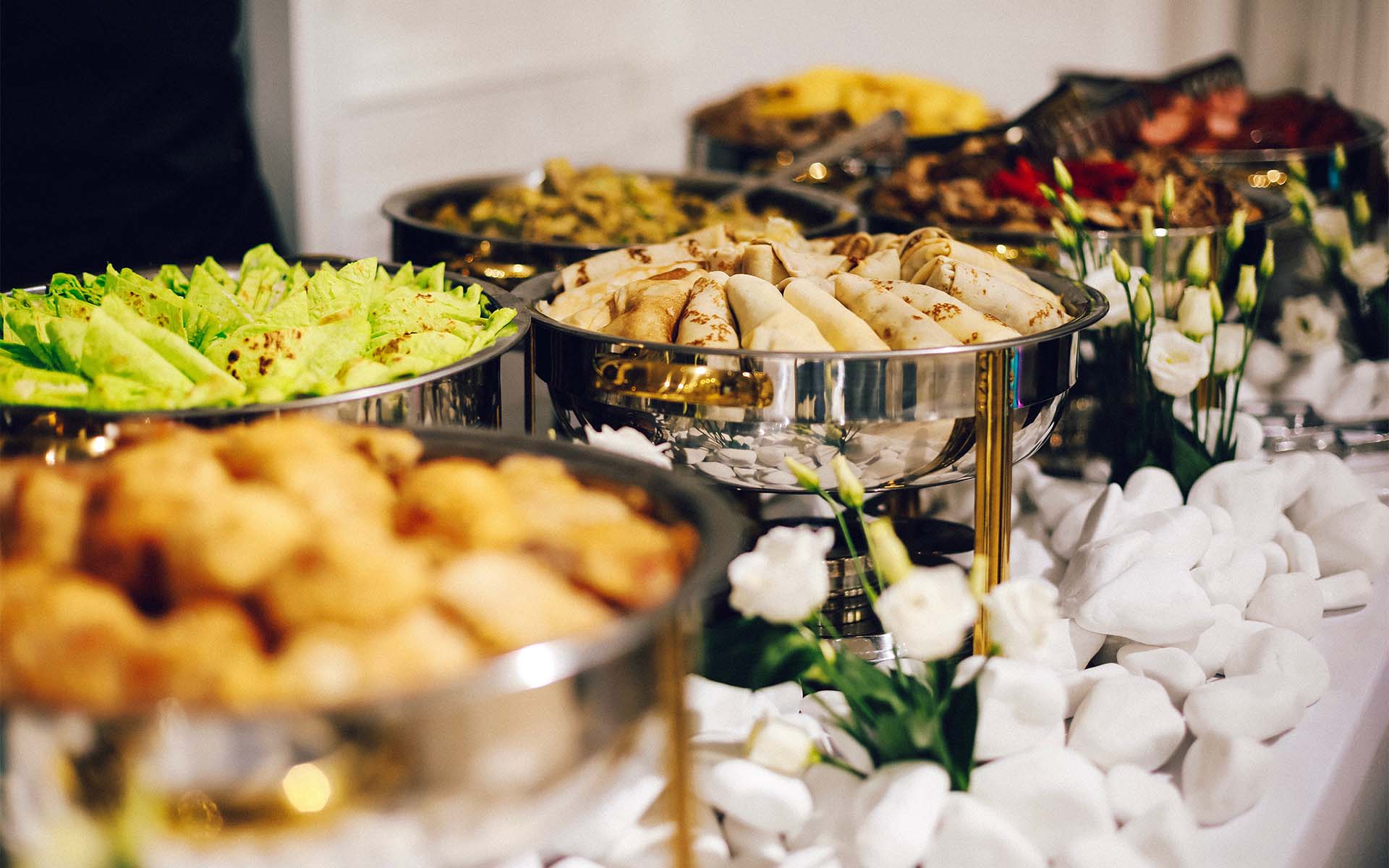 We thrive on attention to detail and consider it an all-encompassing factor, our keen eye and dexterous skills are factors which make memorable events simply fall into place.
With us, you can have the confidence to experiment and still be ensured that your guests will enjoy delicious and innovative dishes along with classic and contemporary dishes. We understand our clients, delivering on a great healthy choice and will work closely with you to design a custom menu that suits your budget and events needs.
Experience perfection, experience an event with Red Table Restaurant Catering
RED TABLE EVENT MANAGEMENT
1
Choosing Red Table is an investment towards your event because we treasure and care for all our clients and we are prepared to go that extra mile to make each event unique and memorable. With our experienced team, we ensure the success of your event – that is why we do not simply 'manage' things – we 'orchestrate' every single component of your special day, so that what you see and get, far exceeds anything you could have possibly imagined! We have years of experience in special event management and offer a unique service, which begins with sourcing the right venue, to organising and managing all the various aspects of your event or party. We have an excellent reputation and always provide a professional level of service. We strive to fulfil our client's expectations and objectives in a creative and cost-effective way and create concepts to achieve your dreams and work within your budget.
We will oversee and run the entire event from start to finish, leaving you free to enjoy your event and play special host to your guests. We create the ambiance in your venue, whether be it a hotel, a stately home or a marquee.
Our approach is very "hands-on"; we will manage all services required to make your event a success. If you are sourcing any extra services, we will liaise with you and your sub-contractors to ensure nothing is overlooked. We are happy to manage all or only some aspects of your event, allowing you to retain control whilst benefiting from our planning and operational experience.
INSTAGRAM @redtablerestaurant